Royal Brighton Yacht Club is excited for you to come sailing with us!
You'll be joining the greatest community of young sailors on Port Phillip, in a prime location easily reachable from all over Melbourne and it's suburbs.
RBYC training programs provide the best pathway for juniors and youth between 5 and 18 who seek a dynamic outdoors lifestyle, in contact with the ocean, and sharing the experience with lots of other like-minded people, all feeling part of the same team.
The unique facilities and the great team of coaches and volunteers allow RBYC to provide the best experience at all levels of sailing, from the little Tackers sailors up to our Junior Green Fleet, 29er and Youth Racing Squads.
During terms 1 & 4 we offer Sail Training and Race Training via either or Training Squads or Racing Squads programs.
RBYC also provides a unique way for parents to be involved and help us be able to provide these programs as a low cost through volunteering: Our programs heavily rely on volunteer help to run at their best and are always welcoming of new people wanting to help out!
2023 Term 4 dates
THESE COURSES ARE NOW FULL
15/10
22/10
29/10
5/11
12/11
19/11
26/11
3/12 – No Training
10/12 – Last day (Presentation & BBQ)
These programs are for those sailors still progressing through their sail training. These programs will get sailors to the required skill level to then be able to join the racing squads. Ther is a cost assocaited for each cousre but you do not need to be a member of RBYC
These programs are for those sailors who have completed Tackers 3 or OutThere 3 (or have equivalent experience). The focus is on gaining skills for club racing and getting ready for regattas and events. Anyone wanting to join the racing squads must be a Youth member of RBYC.
Training Squads
These programs are run by highly experienced instructors but are parent driven. We ask that parents be involved in helping the staff run these programs. Details of how are HERE

TINY TACKERS $380pp
Tiny Tackers is a fun and games focused program held at a Tackers Centre for 5-6 year-olds. The program is run in small groups with low instructor ratio's to ensure close supervision from qualified Tackers teachers.
The program aims to get little sailors comfortable in and around boats whilst encouraging them to begin to learn and understand some of the vocabulary associated with the sport.
Training times: 9.00am to 12.00pm

JUNIOR FUN & ADVENTURE $380pp
Fun & Adventure Sundays are for our young sailors who have no sailing experience or have completed Tackers 1 and are looking at progressing to club sailing. Our qualified coaches will guide them to safely enjoy sailing in all conditions.
Having fun in boats is key to making lots of new friends and enjoying weekend adventures.
Training times: 9.00am to 12.00pm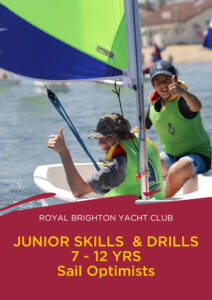 JUNIOR SKILL & DRILLS – $380pp
Junior Skills & Drills aims at up-skilling sailors who have done Tackers 2 or Junior Funa & Adventure to try club racing and getting on the water with friends.
The sessions, run on Sunday mornings and lead by our team of qualified coaches, focus on perfecting the sailing skills which lead to racing.
Training times: 9.00am to 12.00pm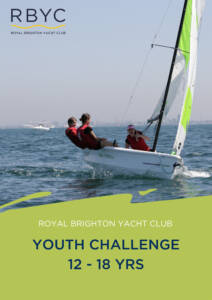 YOUTH CHALLENGE $380pp
Completed OutThere 1 or have some previous experience
A fantastic opportunity to push the boundaries and challenge yourself to explore all aspects of your sailing journey.
The program runs in the club's RS Quest dinghies – the perfect platform for safe and fun sailing. The goal is to educate youth sailors in all aspects of safe boating, club racing and one-design sailing. It also involves regular club racing and representative events under the Team Brighton banner.
Training times: 9.00am to 12.00pm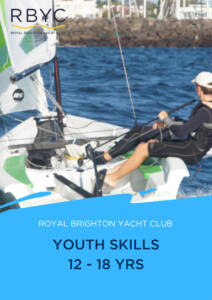 YOUTH SKILLS – $380pp
Completed OutThere 2 or Youth Challenge
This course is aimed at teens ages 12-18 and strives to continue to develop sailors boat handling and speed skills whilst beginning to introduce some more complex sailing concepts. By the end of the program sailors will have learned the basics of racing and will hopefully be ready to start racing frequently as part of our Youth Racing Squad! As always we strive to maintain a social and encouraging learning environment both on and off the water!
Training times: 9.00am to 12.00pm

---
Race Squads
To be eligible to join any of the Race Squads the sailor must have completed the required level of training and become a Youth Member of RBYC $107pa. These programs are run by highly experienced coaches but are parent driven. We ask that parents be involved in helping the coaches run these programs. Details of how are HERE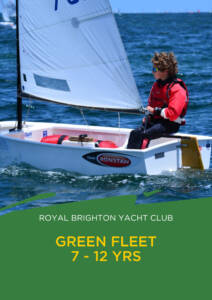 JUNIOR RACING SQUAD (GREEN FLEET)
Completed Skills and Drills or Tackers 3 or may have own boat and looking to learn to race!
Green Fleet is designed to facilitate ongoing learning and provide a more individualised progression pathway. Without the restrictions of tight curriculums and timelines, this group is designed to foster sailors into racing up to a state or nationally recognised "intermediate" level. Sailors do not pass or fail this course but rather continue to get support tailored to the demands of racing.

Term training times: 1.00pm to 4.00pm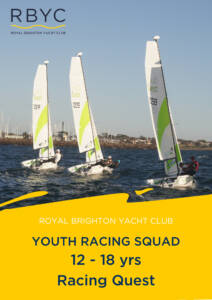 YOUTH RACING SQUAD
The Youth Racing squad is aimed at sailors who have worked their way through the OutThere Program or who have completed both Youth Challenge and Youth Skills. As the name suggests, it is focused around racing and integrates the Sunday afternoon OTB club racing into its training structure.
Sailors from this group also have the opportunity to be selected in the squad representing RBYC at the Stonehaven Cup, one of the most historical regattas around the country.
Term training times: 1.00pm to 4.00pm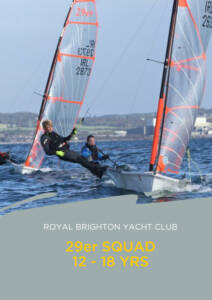 29er SQUAD
A new addition to the RBYC programs, our 29er squad welcomes sailors who have never seen a 29er before, all the way up to those who are preparing for state and national championships.
Spearheaded by some of the best 29er coaches in the country, our squad is lucky enough to be able to make use of one of the club 29ers before having to commit to purchasing their own.
Have a go at sailing with different people and find your best match before diving in and getting ready to race!
Term training times: 1.00pm to 4.00pm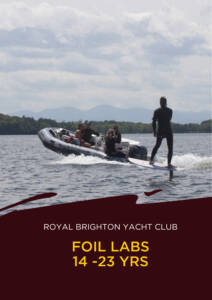 Foil Labs are one day introductions to the art of foiling.
Designed for 14-23 year old's, this course provides all the equipment and knowledge you need to get started on your foiling journey, or just have a bit of fun with your mates trying something new!
As these courses, only run for one day at a time, dates will be updated intermittently, so if you don't get in for the course you were planning for, don't worry- another one will be coming up soon!
Term training times: 1.00pm to 4.00pm
Frequently asked questions
When and where does the program run?
The program runs on Sunday mornings starting at 9.00am from the Jock Sturrock Sailing Centre located in the South West corner of the yacht club. The morning session ends at 12.00pm.
There are two intake periods, following the fourth and first terms of the school year as follows:
Term 4 (usually around September to December)
Term 1 (Usually February to April)
If weather permits, the children spend most of the session on the water. Otherwise, inside activities are used to teach theory and practical skills such as knots, seamanship and tactics. Sessions are rarely cancelled so if you haven't heard anything – Make sure to show up!
Do I need a lifejacket?
Yes, a PFD type 1 or 2 lifejacket must be worn at all times on the water. The club has supply of life jackets but sailors are encouraged to purchase their own for comfort and guarantee of a good fit.
What kind of clothing do I need?
Children will be splashing in and out of dinghies all the time. Inevitably, they will get wet. Their clothes should be selected with this in mind. They should wear clothing that will remain warm when wet. A wetsuit or similar is recommended. If in doubt, assume you're going to get wet, that way if you don't, its a win!
Enclosed footwear should be worn at all times for safety reasons. Examples include wetsuit boots, sandshoes or surf socks.
Hat and sunscreen are also required. The hat should be attached to the rest of the clothing by a lanyard (sailor talk for a bit of string) to avoid getting lost. Parents should supervise the application of sunscreen to their children. UV reflects off the water, increasing UV exposure.
After sailing, children will require a change of clothes. A small bag with the change and a towel is useful. If children are cold and wet, showers are available.
Are there ways for parents to be involved?
The program relies heavily on parent participation to carry out many different activities. No experience is required! Our amazing community will teach you all there is to know.
Coaches need assistance to maximise safety on the beach and on the water.
A canteen is run from the Jock Sturrock Sailing Centre. Volunteers will be rostered over the season to assist with staffing of the canteen.
In order to volunteer you are required to have a valid Working With Children Check.