June Guest Speaker Dinner: Friday, 16th June 2023
Earlier this year, Don Warner and wife Carolyn embarked on a two week cruise of the Patagonian Fjords of Chile, departing from Ushuaia and ending in Valparaiso.
Don has a dramatic set of photographs taken on their travels through this wild and fascinating part of the world, and in addition, will provide an overview of some of the topics that their expedition guides spoke about on the trip, including the history of the area, cultures, and landscapes.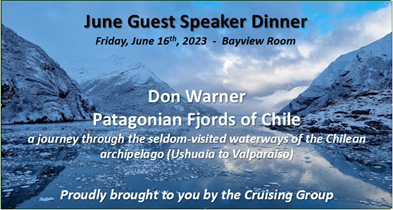 Frostbite Cruise 2023 July 1st & 2nd
Save the first weekend of July for our next on-water event – the annual Cruising Group Frostbite Cruise – up the Yarra to either Melbourne City Marina (Docklands), or Yarra's Edge. Make a weekend of it, or a day sail on Sunday 2nd.
Details and co-ordinator to be advised closer to the date.