As an accredited Australian Sailing Discover Sailing Centre the club offers opportunities and experiences to suit all abilities. Our team of qualified instructors and coaches are dedicated to sharing their knowledge and passion for the sport of sailing.
Royal Brighton Yacht Club has one of the most active sailing calendars in Victoria. With learn to sail courses, powerboat courses, social sailing, racing and volunteer opportunities there are several ways to get on the water. We look forward to welcoming you and showing you how fun, safe, accessible, and affordable sailing is.
Here at RBYC we offer a number of options for adults interested in sailing. Whether you are keen to learn in a dinghy or a keelboat, spend an afternoon or do a course. Discover Sailing courses can lead on to a wide range of sailing and social opportunities at RBYC, both recreational and competitive.
Our Courses
Small Boat Sailing
Dinghy Sailing
Dinghies courses are tailored for both teenagers and adults and involve sailing on small exhilarating boats (one, two or three crew vessels).
Dinghies represent an ideal learning platform because thanks to their small size participants are safe and in full control of all sailing aspects. In more experienced hands though dinghies become action-packed boats suitable for sailors looking for a thrilling sail!
| | |
| --- | --- |
| Program | Overview |
| Start Sailing 1 | Learn the fundamental skills of sailing a dinghy |
| Start Sailing 2 | Continue to learn the fundamental skills of sailing a dinghy, on your own |
| Better Sailing L3 | Sail in faster winds, whilst using a trapeze and a spinnaker |
Big Boat Sailing (coming soon)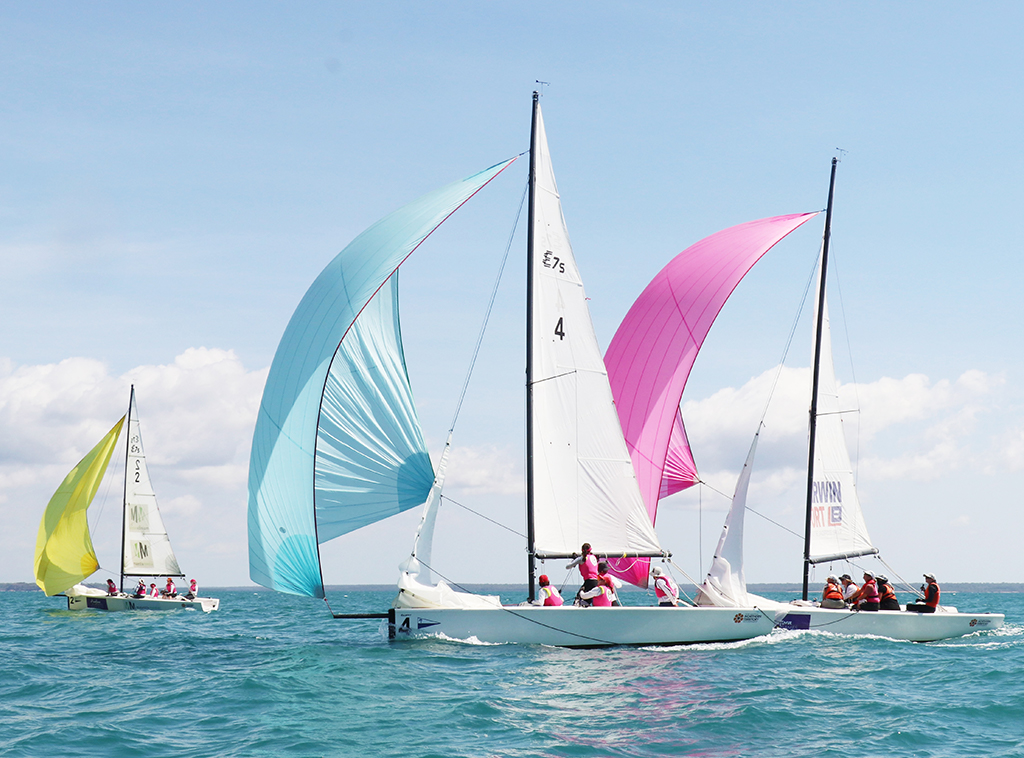 Keelboat Sailing
Keelboat courses use sailing boats up to 10m long which allow participants to learn to sail on stable yet responsive vessels. The crew is comprised of several sailors so all participants can experience and master all roles on board. Teamwork is essential and allows for participants of all fitness levels to learn to sail. These vessels are called Sport Keelboats for a reason though, more experienced crews will soon find out that these vessels are no snail!
| | |
| --- | --- |
| Program | Overview |
| Start Crewing | Learn the basics of sailing on a keelboat |
| Start Helming | Develop your theory and practical skills of helming |
| Start Skippering | Learn the seamanship skills to enable you to skipper a boat. |
| Spinnakers | Learn to use asymmetrical and/or symmetrical spinnakers. |
| Start Racing | Learn the basics of racing a keelboat. |
Frequently asked questions
Is it safe?

Safety is the top priority at RBYC. The club provides all the safety equipment needed and all instructors maintain current qualifications and certificates dictated by Australian Sailing and RBYC, including first aid training and working with children checks.
Do I need to be a member of the club?

You do not need to be a member of a club to take part in one of our adult courses
Do I need a boat?

All boats are provided by RBYC
What do I need to bring?


All the safety equipment is provided by the club. In addition you will need:
– Clothes & shoes (including change) – wear ones you don't mind getting wet and will keep you warm on cold days
– Towel
– Drink bottle
– Hat
– Sunscreen