Formed in 1991, the Cruising Group exists for those who enjoy sailing's more relaxing and sociable side along with the pleasures of exploring our waterways, bays and coastline by boat.
Regular get-togethers are enjoyed on the third Friday of the month. These meetings are well attended, with 50 to 60 people sharing a meal and listening to a speaker or engaging in many other activities, such as the annual Carols at Christmas BBQ, roving dinner parties in the marina and lunch and dinner cruises away from the Club.
Guest speakers cover a wide range of topics, including cruising destinations, voyages undertaken, boat maintenance and safety equipment. Sharing a meal beforehand gives everyone a chance to catch up with friends, meet other yachties, and to share ideas.
The Cruising Group endeavours to organise a "Monthly On-Water" activity, usually the last weekend of the month, depending on the weather. In Late February / early March of each year there is an annual two week long "Bass Strait Cruise in Company".
Cruising group members are kept in touch with what is going on through a monthly newsletter and regular emails.
New members are always welcome. For more details, please contact the RBYC Reception on (03) 9592 3092. Upon payment of a small fee, membership is open to anyone who is a member of a yacht club.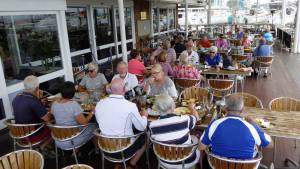 Cruising
The 29th RBYC Cruising Group Annual Birthday Cruise to the Royal Yacht Club of Victoria at Williamstown for lunch will take place on Sunday January
Read More »
Yacht Clubs
Commercial Marinas and Harbours