To kick off 2023's Guest Speaker Dinner Programme, we are delighted to have Robina and Brenton Smith entertain and inform us with tales of their 2021 Coral Sea passages.
A chance encounter in a laundry and chandlery led Robina and Brenton Smith to participate two handed in the 'Beyond the Barrier Rally' between COVID lockdowns in August, 2021, in Chakana, their Caliber 40LRC.
The 'Beyond the Barrier Rally', cruising 200-400nm offshore into the Coral Sea was a true blue-water adventure, with pristine coral reefs, sandy cays, islets, shipwrecks and an abundance of wildlife.
The promo for the rally says, "This voyage should not be considered a pleasure cruise, nor undertaken by the inexperienced. This is an extended adventure into the blue and as such the risks are significant, as are the rewards." Robina and Brenton took on the challenge and reaped the rewards!
As usual, after gathering in the Members Bar for the weekly announcements and members' draw at 7:00pm, please join us in the Bayview Room for the dinner and talk to hear about cruising in warmer climes
To book, please contact Reception on 9592 3092 or email [email protected] . $40.00 per person is payable on the night, inclusive of a two course dinner.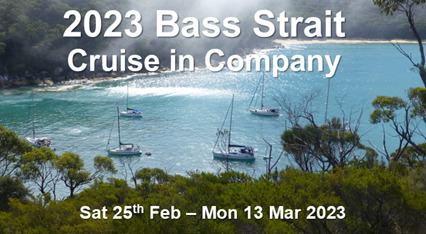 As usual, a group of Cruising Group Boats and Crews will be heading off in late February for their annual two week long Bass Strait Cruise in Company. So far,seven boats have indicated that they will likely be participating, and welcome any other boats which may wish to cruise along with them this year
The emphasis is on having fun, and the camaraderie and safety of being in the company of other boats. This cruise is a great opportunity for less experienced skippers/crews to gain experience in the company of more experienced skippers and crews. Social events take place along the way, including the annual Cruising Group Bocce championship, Klopp competitions, and a themed BBQ. We welcome sailing and power boats to join in and participate.
Depending on the weather, the fleet may decide to head west from Port Phillip Heads to destinations such as Apollo Bay, and then perhaps on to King Island and to NW Tasmania. Alternatively, if the wind is in the other direction, then the fleet may decide to head east to Wilson's Promontory and locations such as Refuge Cove and Corner inlet, and then possibly on to Deal Island and /or Flinders Island. Where we go, and when, is very weather dependent (there have been a one or two years when the fleet has not left Port Phillip Bay because of the weather conditions and forecast). Of course, since this is a "cruise in company", each skipper is responsible for the well-being and safety of their own boat, and in some years, the fleet has split, with some boats going in a different direction to a different destination at different times to the others
Please let Terry Frankham ([email protected]) know if you might be interested in joining this Cruise in Company.