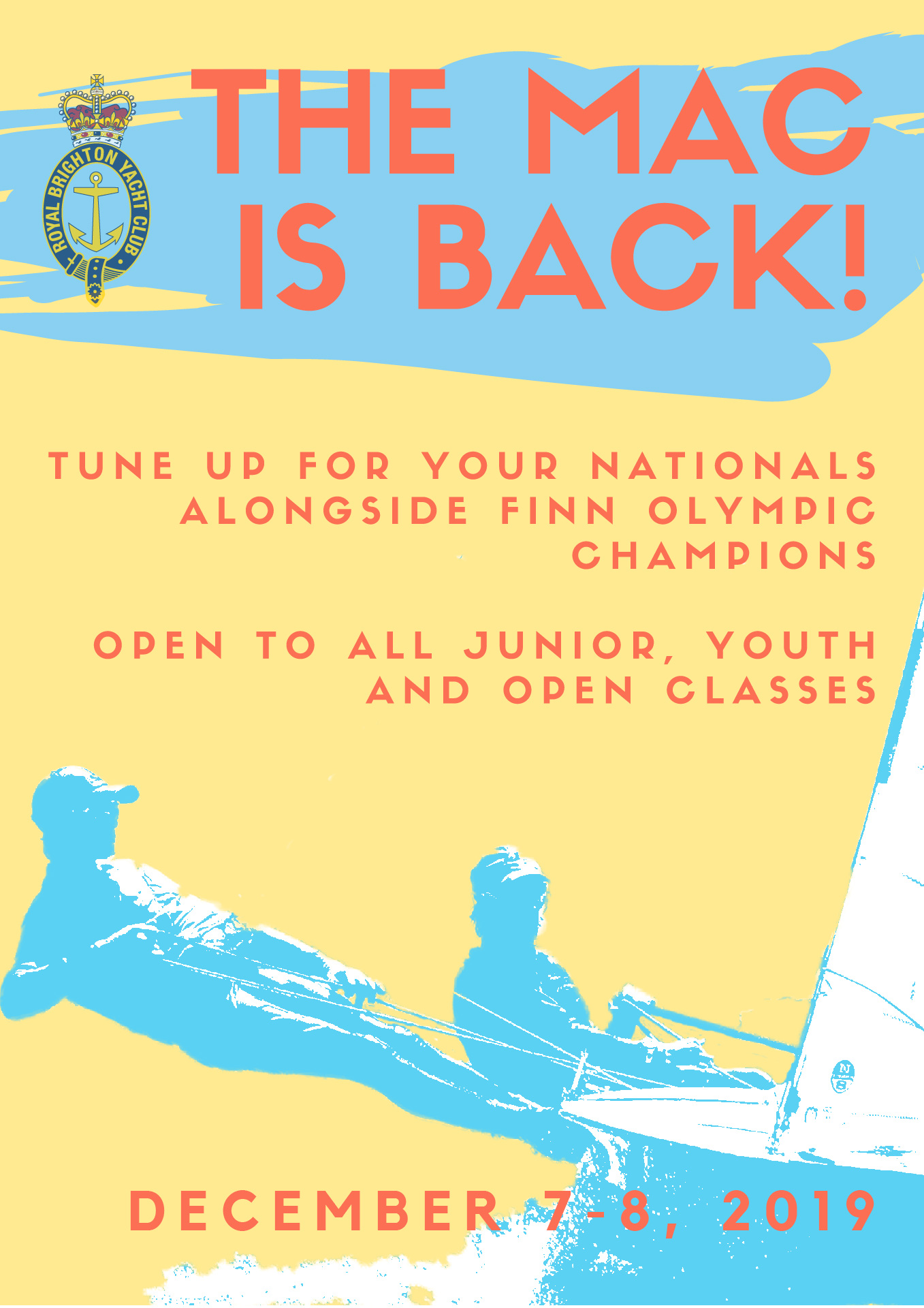 George Mac 2019
07/12/2019 - 08/12/2019
Getting to RBYC
RBYC is located at 253 Esplanade, Middle Brighton, Victoria 3186 adjacent to the Brighton Sea Baths and Middle Brighton Pier.  The nearest cross street is Grosvenor Street.
All boats will be stored ashore in secured areas at RBYC for the duration of the event. Upon arrival at the Club you will be advised by a marshal as to where your boat is to be stored.
The attached maps show the locations of:
RBYC and how to enter.
Trailer Parking at Brighton Beach Primary School.
Entry for boat drop-off and pick-up is via the public car park immediately to the south of RBYC.  There is no vehicle entry from the Esplanade.
Registration
Early registration will be available at RBYC on Friday December 6th, 4-7pm.
Registration will also be available at RBYC on Saturday December 7th, 9-10am.
Car Parking
Paid parking with a 4 hour limit is available in the Council Car Park to the south of the club.  Free parking is available on Beach Road, Grosvenor Street and other nearby side streets – ensure you observe the signs.
Boat and trailer storage arrangements
All boats will be stored in secured areas at RBYC for the duration of the event. Upon arrival at the Club you will be advised by a marshal as to where your boat is to be stored.
There is no trailer storage available onsite. Trailer storage shall be available at the Brighton Beach Primary School, located in Windemere Cres, Brighton, Friday 6th at 5pm, until Sunday 8th at 7pm. Cost is $10 per day. A school plan and map to get there is available below and on the day.
Competing Boats arrival and drop off times
Competing boats may be dropped off at RBYC:
From 9am Friday December 6th.
From 8am-10am Saturday December 7th.
At other times by appointment – call the RBYC Sailing Office on 9592 3092.
Coach / Support Boats
All coach / support / spectator visiting RHIBS / boats must register prior to arrival (completed as part of online entry). All pre-registered support boats will be provided with wet berthing facilities at the RBYC Marina.  A marina key can be made available for a refundable deposit of $50.
Visiting boats will need to arrive by sea, as RBYC is not able to provide launching facilities.  Public boat ramps are located at St Kilda Marina, North Road and Black Rock.  Visiting boats road trailers may be stored at the Brighton Beach Primary School.
Please note that RBYC is not able to provide re-fuelling facilities for visiting boats.
Food and Beverages
The RBYC Olympic Bar & Restaurant will be open during the event offering a range of beverages, snacks and meal options.  There will also be a BBQ offering the following:
Morning
Egg and bacon rolls will be offered in the morning for $4 each from 8:30.
Afternoon after racing
One sausage to each competitor will be free.  Any additional sausage $2.00 each.  Free cordial drinks.  Soft Drinks $2 per can. Lolly bags for children $1.
NOTE: Please bring your own reusable water bottles as the event moves towards a "Green Regatta"
We hope the information above is helpful for competitors and supporters.  Further information will be available at Registration and at the Competitor Briefings prior to the commencement of racing, and at the Regatta Office during the event.
George Mac goes Green
The George Mac Regatta and RBYC is taking steps towards making the weekend a "Green Regatta". Please bring your own refillable water bottle, with water refill stations available around the club over the weekend. As part of the "Green Regatta" we have signed up to "Sailors for the Sea". So please keep an eye out for any litter and encourage everyone to help make this a litter free event. You can find more information about this program at the following site – http://sailorsforthesea.org/
Regatta Contacts
Phil Hall: RBYC Boating Manager: [email protected]
RBYC Boat drop-off and collection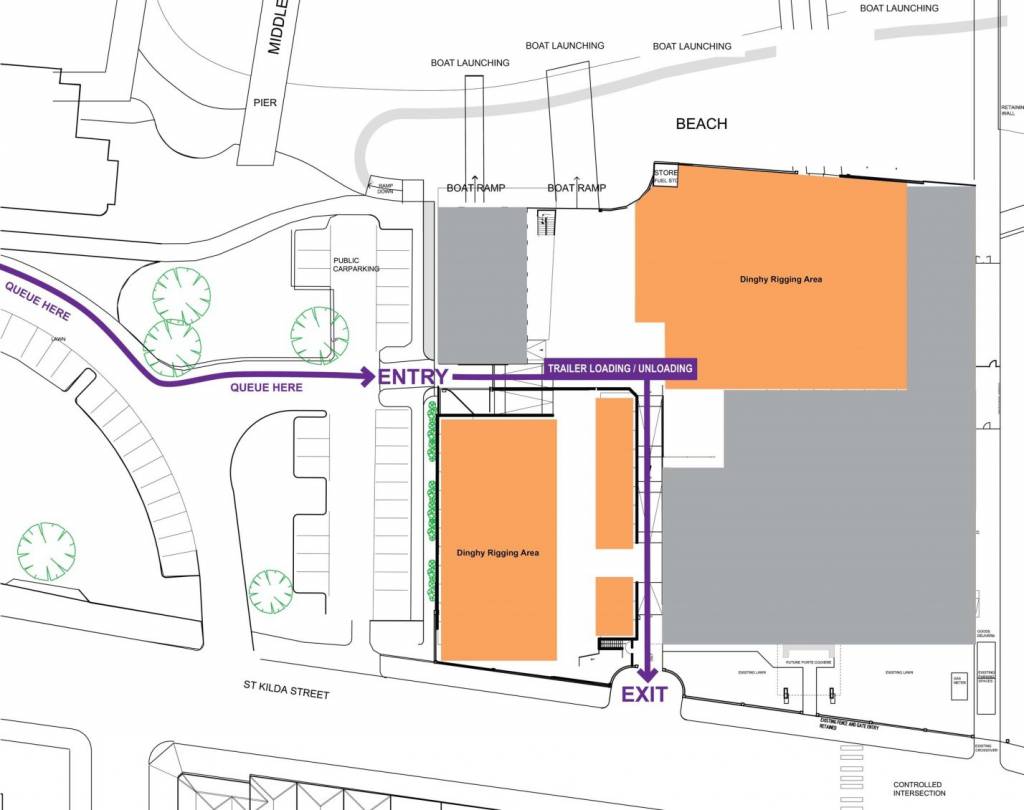 Enter the Brighton Sea Baths precinct via the driveway opposite Normanby Street.
If queueing is necessary, please queue along the left hand side of the approach road only and do not leave the tow vehicle unattended. Please cooperate with the Traffic Marshalls.
Trailer drop-off and collection
Brighton Beach Primary School is located at 19 Windermere Cres, Brighton VIC 3186. Trailer Parking shall be available from 5-8pm Friday night and 8-11am Saturday morning.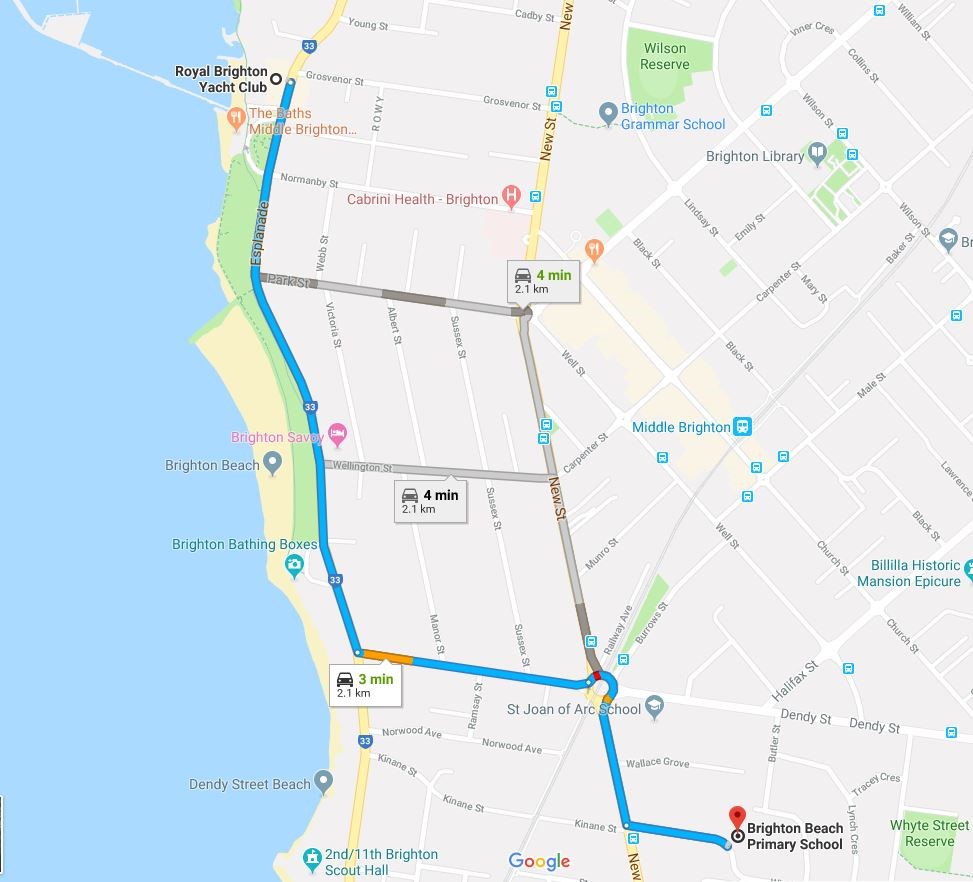 Trailer Drop off – School Map
If you are dropping a trailer off before 7:30pm on Friday Night you will need to use the entry at Exon Street. All other times, enter from Windermere Cresent.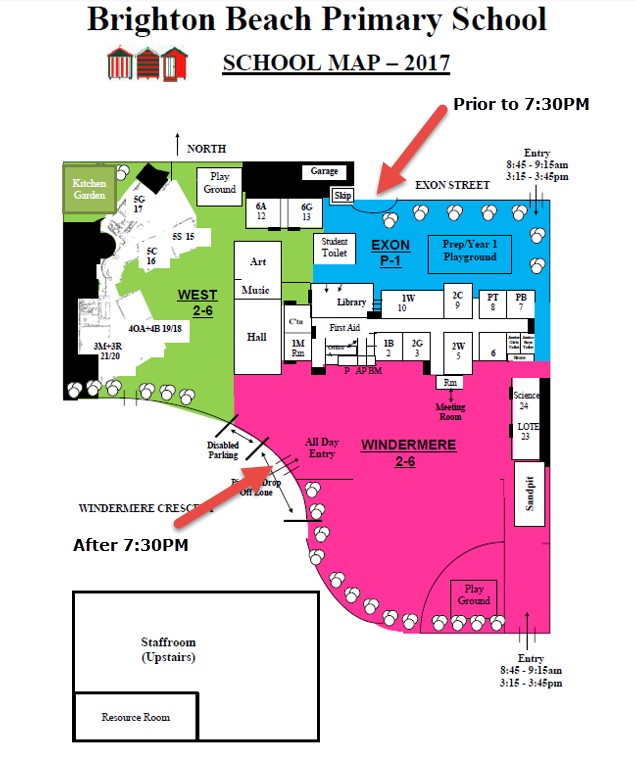 Support Boats
RBYC welcomes all support boats and spectators. To ensure a safe regatta for all participants we require that you:
Register your support boat as part of the online entry or email [email protected];
Confirm registration at the regatta office prior to racing and pay a $50 refundable deposit for the issue of a marina key;
Carry a VHF Radio and monitor the fleet channels as advised by the Organising Authority;
Sign on and off by radio to the RBYC Tower each day and declare the number of persons onboard;
Hold a current power boat operators license;
Restrict speed to 5 knots within 100m of any competitor; and
Assist the organising authority with safety matters when requested.
When the race committee displays flag W with repetitive sounds, all official and support boats shall monitor the race committee radio channel for search and rescue instructions, remaining in the vicinity of the course and rendering all assistance requested by the Race Committee until code flag W is lowered.
All support personnel shall keep to leeward and more than 100 metres clear of any competitor or mark of the courses between the preparatory signal and expiration of race time, except when asked to assist by the Race Committee. Failure to comply may result in protest of boats associated with the infringing vessel.
To be allocated a berth in the RBYC Marina please contact Boating Manager at [email protected]