Below is a register of RBYC vessels. Read more about the boat, the owners and what significance there is in the boat name.
We want you to be involved so if you own a boat and it's not here yet then please take a few minutes complete the online boat information and it will be added to the list.
Kingurra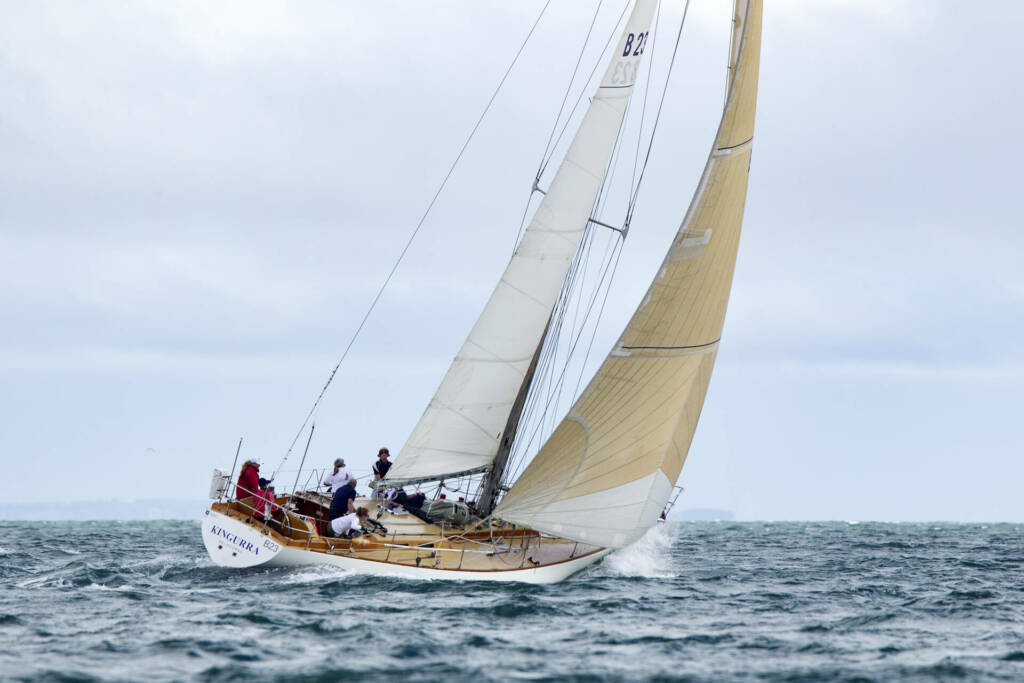 Boat Name Kingurra
Owners Ian Macfarlane, Kevin Bailey and Glen Kile
Boat Rego/Sail Number B23
Boat Description Joubert Black Swan 13.2m
Origin of boat name
Peter Joubert (1924-2015, Life Member RBYC) designed yachts in size classes named after Australian birds (e.g. Currawongs and Brolgas). Kingurra is believed to be an anglicised form of the Yugambeh word for black swan (kinygar or kin.gar). Yugambeh and related dialects is the language of the indigenous people of south eastern Queensland and northern NSW (Dictionary of Yugambeh compiled by Margaret Sharpe, Pacific Linguists, ANU, 1998).
Boat History
Kingurra was built in Sydney by the famous wooden boat builder and champion sailor Bill Barnett OAM (1915-2018) for Graham Warner a prominent Melbourne yachtsman. He built many wooden boats of various classes Including the 12m America Cup challengers Dame Pattie (1967) and Gretel 11 (1970). Kingurra was commenced in 1971 and launched in December 1972. Kingurra represents the end of an era of timber, heavy displacement ocean racing yachts.
Kingurra has competed in many ocean races. She is a veteran of 14 Sydney to Hobart yacht races finishing in 13. In completed races she was usually a mid-race finisher (21st overall out of 51 boats in 1972 and 7th in Division 2 in 1990.) In the 1998 race Kingurra was rolled to 120 degrees or more by a monster wave near the centre of the storm that created havoc for the fleet that year, resulting in six deaths and the loss of five yachts. Several crew members (including Peter Joubert) were injured as the boat rolled over and then self-righted. In the chaos of the moments after righting, a crew member was lost overboard. Despite his injuries, which included broken ribs, a punctured lung and ruptured spleen, Peter manned the radio to make the mayday call alerting authorities to the Man Overboard situation and manage all communication with the Victorian Police helicopter when it arrived on the scene a short time later. The helicopter was able to rescue John Campbell in the midst of the maelstrom that included waves up to 45m high and hurricane force winds.
1
Kingurra was retired from ocean racing after the 1998 Sydney to Hobart but has continued a long career of racing on Port Phillip Bay in Royal Brighton Yacht Club (RBYC) races and in recent years with the Classic Yacht Association of Australia. In 2017 Kingurra journeyed to Sydney for the Admiral's Cup Anniversary Regatta. Although not an Admirals Cup team member Kingurra had participated in team selection trials for the 1973 Admiral's Cup. Kingurra entered the Australian Wooden Boat Festival in Hobart in 2015, 2017 and 2023 and continues Bass Strait and Tasmanian cruises that have provided opportunities to explore wonderful places.
A more detailed history is provided of Kingurra is provided in the publication Kingurra 1972-1922 in the RBYC Library.
Highlights of your time as owner
Highlights include being able to own and sail a vessel of such yachting heritage and character, participating in three Australian Wooden Boat Festivals, cruising the Tasmanian coast and sailing with other classic yachts.
What are your plans
Keep on sailing.