While we're still waiting on some clearer information on how our return to real sailing will look like, why not challenge ourselves in a virtual regatta?
Zhik and Australian Sailing have organised the National eSailing Challenge, and all clubs in the Country have been asked to send a representative. This person will go on to compete at the State challenge which will be held between May 22 and 24. Subsequently, they could qualify for the National finals on May 28.
In order to select our Club rep, we will be running a qualifying round on Friday, May 15 from 11am.
The format will be as follows:
If there are less than 20 entries, we will be running 5 races with 2 discards. The top scorer will be the club representative.
If there are more than 20 entries, we will be running qualifying rounds in groups of 20 people with 3 races and 1 discard. The combined top 20 across all groups will be able to access the final, which will be 5 races with 2 discards.
The target time for each race is 6 minutes, the boat used is a J/70, the course and start sequence are below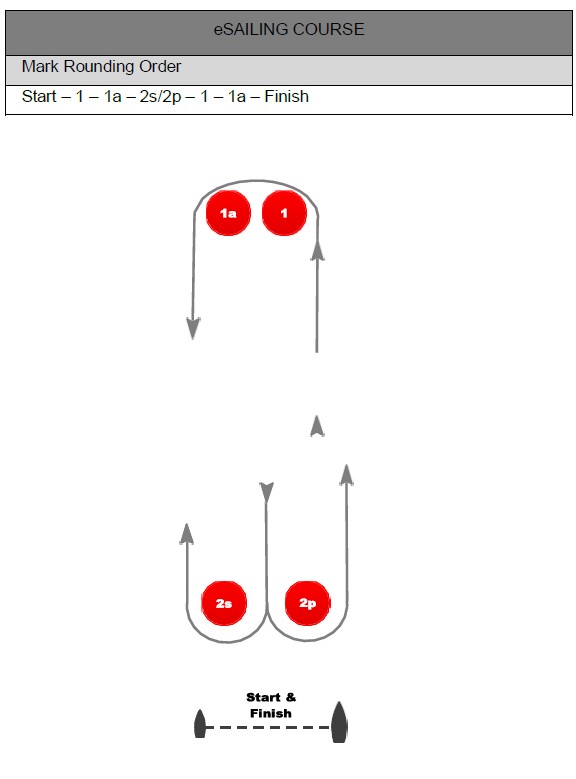 | Minutes before starting signal | Visual Signal | Sound Signal | Means |
| --- | --- | --- | --- |
| 1:15 | P and Virtual Regatta flag | One | Warning Signal |
| 1:00 | P removed | One | Preparatory Signal |
| 0:00 | Virtual Regatta flag remove | One | Starting Signal |
In order to participate you need to:
Create an account if you don't have one already and note down your username
IMPORTANT: register your intention to participate in the form below before 5.00pm on Thursday, May 14.
You will be contacted prior to the event with information on how to enter the race, which group you will be in (if more than 20 registered) and more.
For more information, contact Francesco at [email protected]