It's been a particularly busy fortnight for the Icebergers.
Icebergers vs Yachties trivia night – 26th April
There was a large turnout of 13 tables (124 people) for the 12th Icebergers vs Yachties trivia night this year. A noisy 'buzz' was heard around The Bayview Room as the different teams tackled the Famous Faces category, followed by the Heroes & Villains pack questions. These were followed by questions regarding Bayside & RBYC, Miscellaneous, Sports & Entertainment. The pop music is a favourite for many attendees and pop songs from the 1960s through to the present day were played for people to identify. Iceberger team 'Table 9' emerged victorious on the night and are pictured wearing their medals.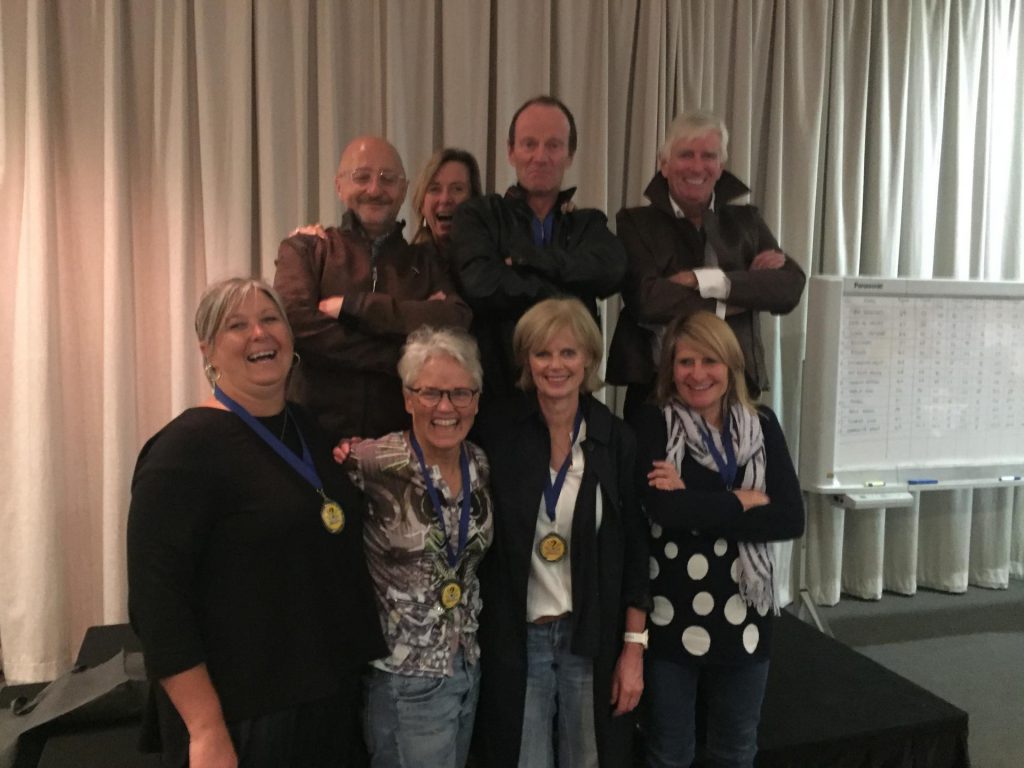 Icebergers vs Pirates team swim – 28th April
Conditions were perfect for this year's swim, hosted by the Pirates in their home waters at Mills Beach, Mornington. It was the first time in the 13 years the event has been held in the afternoon, but the timing proved wise this year as heavy weather had prevailed earlier in the day. The Pirates proved too strong for us and won back the Port Phillip Bay Challenge Cup. Congratulations to Icebergers Lucas Tucker and Andrew Rosengren who were the first 2 swimmers across the line.
Byron Bay Swim – 5th May
This year's 32nd annual Byron Bay swim (2.2 kms) was held under sunny skies in choppy conditions. Icebergers Bernie McNamara, Lisa Gulikers, Fran Johnson, Brett Davis, Esther McConnell, Chris Yencken and John Tregaskas all participated in this year's event which attracted about 800 swimmers from around Australia. Most of our swimmers are members of the Hawthorn Aquahawks and do their pool training at the Hawthorn pool. Fran Johnson was a top performer at Byron this year placing third in her age group… congratulations Fran.